Next, I went on to focus more on researching our current usage of stars. To identify potential causes of these discrepancies, I went to examine existing guidelines and ask about perspectives.
Noting the banner message at the bottom of the Base iconography documentation, most of our icons were meant to be used as filled icons and outlined versions were for marketing campaigns. This may explain the discrepancy between screens with a variety of outlined and solid stars.
I communicated the accessibility concerns with stars and reached an agreement that the stars could be an exception. This meaning that we were not limited to only the filled version of the star icon.
My primary accessibility concerns are shown below. I compared black filled active stars and yellow filled active stars against both solid and outlined inactive states. In the center, it is obvious that to a user with most color blindness (achromatopsia) cannot distinguish active and inactive states when using the combination of yellow (or low contrast color) stars in conjunction with filled inactive stars.

To summarize the results of the findings - the outline easily has the most contrast for a user to differentiate between two states and if opting for a yellow star, we cannot use a faded/filled/shaded star as the inactive state.
However, even with this in mind, it was possible to opt for either star treatment. If opting for a solid inactive state, we would simply need to be more careful and intentional with other design decisions. Because of this not completely eliminating an option, I conducted further research with a variety of users including other designers and non-designers who have experience rating products in general.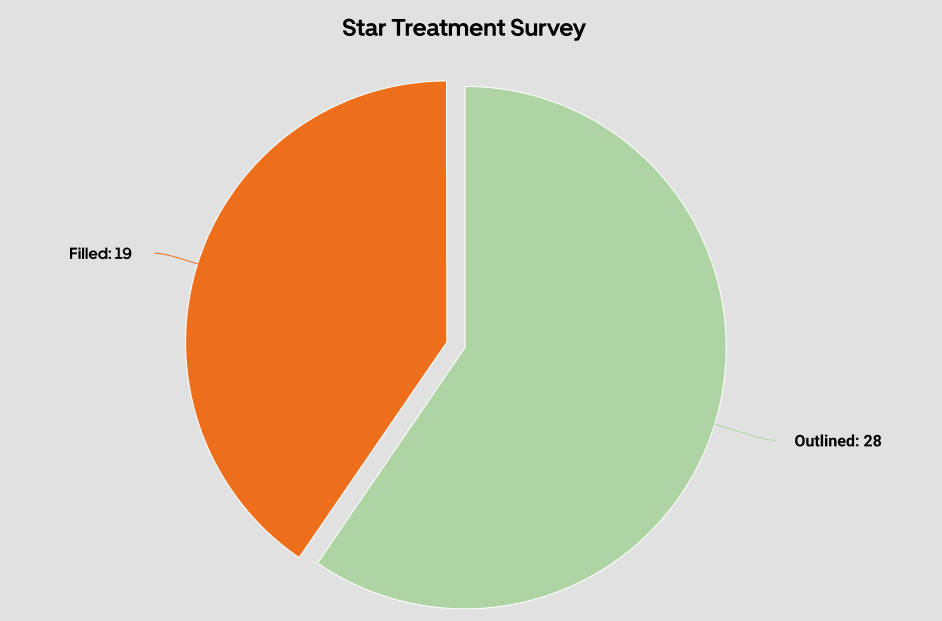 As seen, more users preferred an outlined star to prompt rating. It's also significant to note that our goal with ratings was to encourage users to rate. Below are excerpts and quotes from various users and their thoughts on the treatment for the different stars.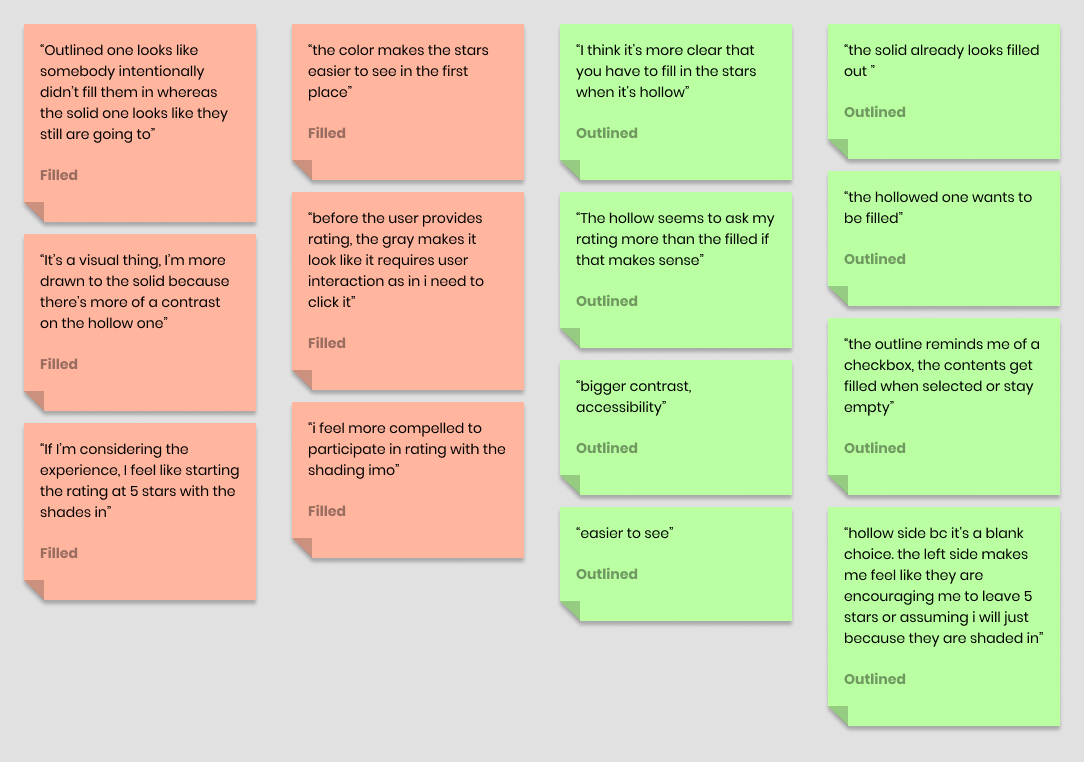 Synthesizing some key aspects from the selected quotes, I realized that some users felt the filled in stars were somewhat of a "dark pattern" where it feels like it's telling the user to rate 5 out of 5 stars in an unrated, 0 out of 5 star situation. While visually appealing, this was not the ideal user experience. In contrast, hollow stars did more often than not encourage users to "fill in" these empty stars but did not exactly push users to rate a certain value such as 5 stars.