Logo Design
I began drawing from my knowledge of Recovery Cafe's organizational values, brand ethos, audience, and mission. I outlined key words to consider as part of the logo's meaning. This was a mass brainstorm activity to freely sketch all ideas and have a plethora of designs to reflect on and receive feedback.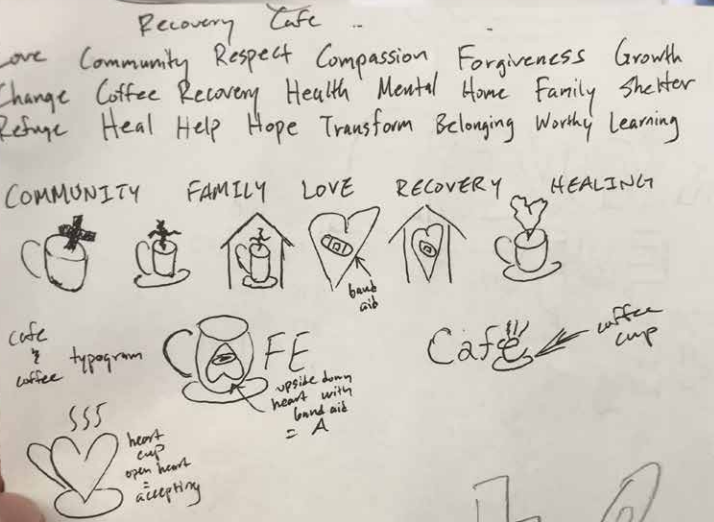 Keeping the client's mission in mind, I began sketching different digital logo iterations before transitioning to more geometric based logos. I focused my designs on the key ideas of "community, love, and coffee" to fit their mission and purpose.

With peer critique, I began refining my logo in the center. I combined figure and ground to highlight Recovery Cafe as a home for those in need but also as a casual cafe to be more welcoming to newcomers. I attempted to balance the Gestalt principles with my understanding of the brand.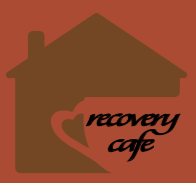 A house represents the home and shelter provided because Recovery Cafe serves as a refuge for those facing mental health challenges. Whitespace with figure and ground carve out a coffee mug for the literal cafe. I chose a script typeface to act welcoming with a personal, homemade touch which reflects a "homey" feel. The text is placed directly on the open end of the house towards the right (carved out by the mug) to represent an open door, welcoming all to visit.
Corners and edges are rounded to be smoother and more friendly. Lastly, a heart shaped handle on the mug communicates the idea of love and leverages proximity with the mug to communicate that both love and coffee are provided by the cafe.