After I published my three components, component insertions more than quadrupled. Throughout my internship, component insertions ultimately increased with a trend upwards. As seen below, when I began my internship, component insertions hovered around 19,000.
After I published three components, insertions went up to 78,000, which I somewhat attribute somewhat to my three components being important and relevant to many designs. However, I do acknowledge not all of these insertions are badges, labels, and tags.
Lastly, on my last day, there were 72,500 insertions showcasing a steady increase and validating the overall design system, including components I updated or created were being impactful.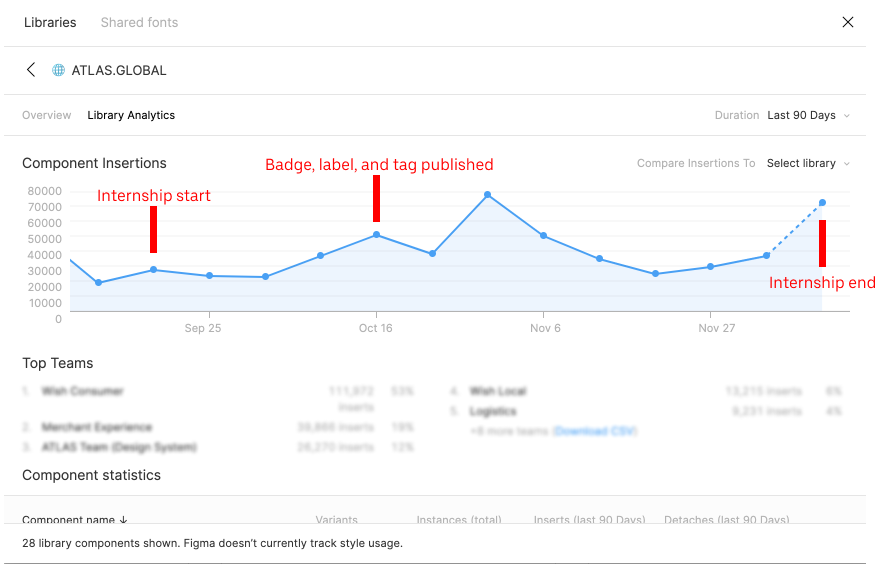 Breaking these results down, here are statistics for the global instance and one of our product module libraries (consumer library). At the global level, which feeds into product levels, my three components were used just under 900 times.

Diving into one particular product module library, namely the consumer level, my badge, label, and tag component were used just under 1700 times. Other product module library data is intentionally omitted for privacy.

Also, there were minimal detaches of these components as they satisfied most designer needs. Speaking with some designers who had to detach the instance, I found out their uses were niche experimentations and did not need to be supported which meant no updates were needed.
To summarize, I was in charge of 1/6 of the design system. I not only created 3 of 18 components, but also wrote extensive documentation for those 3 and these efforts led to component insertions nearly quadrupling from 19,000 to over 70,000 with my three components rarely detached.